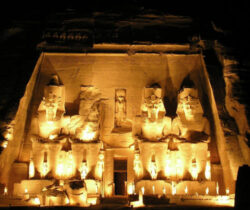 THE TEMPLE
Abu Simbel Locality on the Nile south of Assuan, in Southern Egypt, where around 1250 BC the pharaoh Ramesses II ordered to build various temples, among which two of particular importance, excavated in the stone.
The inside of the great temple, dedicated to the divinities of Eliopoli, Memphis and Thebes (Ra, Ptah and Ammone) is deep over 55 m and it's formed by a series of room and chambers that lead to the sanctuary.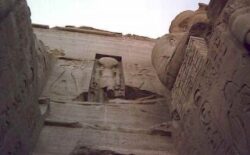 Here, thanks to the positioning of the temple, twice a year the rising sun rays penetrate to enlighten the statues of the gods RA-Harakhty, Ramesses and Amon-Ra, leaving Ptah's one in the shadow.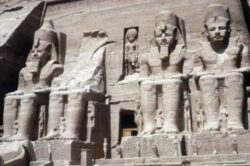 On the facade there are four colossal statues …
..over 20 m high that represented Ramesses defied
Among the many relief, a serie represent the battle between the Egyptian and the Ittiti in Kadesh; the inscriptions are also frequent, of great historical interest, as the ones that the Greek mercenaries engraved on the base of ramesses's two statues in the VI century Bc, which are among the most Ancient example of Greek writing.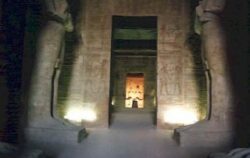 The minor temple, dedicated to queen Nefertari and to the goddess Hathor, has on its facade statues of the pharaoh and of his family.
The temples, which are among the most important monuments of ancient Nubia, remained unknown to the eastern world until 1812, when they were discovered by the swiss explorer Johann Ludwig Burckhardt.
In 1964 an international project was begun to save them fro the flood of lake Nasser, the basin created from the dam in Assuan:
a colossal archaeological and engineering operation promoted by the UNESCO, to which even italian technicians partecipated; the temples were cut in block and rebuilt in 1968 on a rise at 64 m above the sea level.