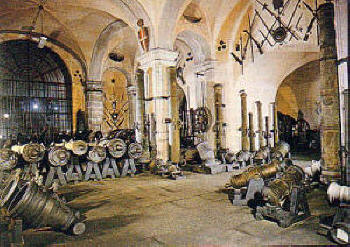 Grazie al Museo di Pietro Micca e dell'assedio di Torino del 1706, si può ripercorrere uno dei momenti storici più importanti della nostra città.
Nel 1076 durante l'assedio e la battaglia di Torino, la città era difesa da una cerchia di mura, una cittadella e una fitta rete di gallerie usate per la difesa.
Quasi completamente cancellate le fortificazioni dallo sviluppo urbanistico, la rete delle gallerie è rimasta quasi del tutto intatta. Circa quattordici chilometri di cui nove percorribili.
Gli episodi dell'assedio sono illustrati dal Museo Pietro Micca, la visita unisce all'unicità di questa opera di architettura militare, l'emozione di poter rivivere episodi vissuti dai protagonisti della storia con gran dignità e coraggio.
---
---
In the underground of Turin you can find one of the most important historical monuments of our town.
In 1706, during the siege and the battle of Turin, the town was defended by a circle of walls, a citadel and an intricate network of galleries, crucial for the defence.
While the fortification has been totally erased by the urban development, the galleries have remained almost untouched. About fourteen kilometres, of which nine are passable.
The episodes of the siege are illustrated by the "Pietro Micca" Museum: the visit matches the uniqueness of this military architectural work and the emotion of reviving the episodes that the protagonists of the history lived with great courage and dignity
Museo Civico Pietro Micca e dell'assedio di Torino del 1706
Via Francesco Guicciardini 7A 10121 Torino
Pietro Micca
Minatore dell'Esercito sabaudo, morì eroicamente facendo brillare la mina di una galleria attraverso cui i francesi assediavano Torino