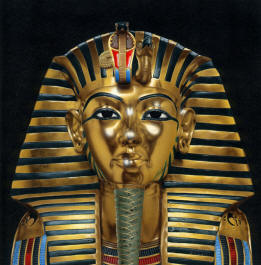 The Pharaoh was the supreme authority in the Egyptian social pyramid, the word "Pharaoh" means "great house".
The Pharaoh was portrayed with a beard, curved or attached to the chin by a ribbon.
Other symbol declare his power, like the crown, The Upper Egypt one white, the Lower Egypt one red, double, the one of the unified country.
Attached to the skirt belt he had an animal's tail, differently identified as the tail of a dog or of a bull.
The king grasped a curved crook and the scourge.
On his head there was often the Ureos, the female cobra snake, that represented the solar god's eye; on his shoulder the hawk Horus sat, Isis's and Osiride's son.
The sovereign could be approached only by the subject who prostrated himself until he kissed the ground.
His birth was preceded by miraculous apparitions that anticipated his consecration
The pharaoh's typical day was carefully organized, on one part by the official duties, on the other by domestic tasks.
What we know about the living Pharaoh, of their thoughts, of their feelings is nothing compared to what we know about them dead, the only exception being the Pharaoh Akhenaten, that paintings, unusually realistic, portray in scenes of family life that document his attention for his daughters and wife.
Sed party
The Pharaohs architects in Karnak