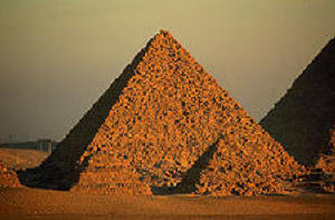 The pyramid is the characteristic architectural structure of the royal tombs of the Ancient and of the Middle Reign.
Inside the sovereign's life was guaranteed after death, in afterlife; nearby there sometimes were a temple and other religious buildings.
The building held the funeral chamber (sometimes underground), where the pharaoh's mummy was put.
The pyramids show a building technique of a high level, considering the lack of iron tools and machinery for the lifting: the tools were made of stone and the building block, many tons heavy, were dragged with slides on embankments, in very long periods and with the use of many men and pulling animals.
The preciseness with which these monuments are astronomically positioned toward the north, is exceptional.
Pyramids in Giza
Khufu's Pyramid
Chefren's Pyramid
Micerino's Pyramid
Unas' Pyramid