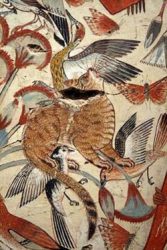 One of the most popular cults in Egypt, in the Late Period, was the one to the cat-goddess Bastet.
In this period thousands of cats have been mummified to be sold to the pilgrims, who presented them to the goddess as an offer.
The bodies of the cats were dehydrated using Natron, this process was similar to the one used for human mummification.
They were then covered in bandages, with the paws parallel to the body.The example shown here is taken from the collection in the British museum, and it illustrates very well the very elaborated standard for the preparation used for these sacred offerings.
Enormous cemeteries have been discovered that held thousands of these burials for animals. The main centre for Bast's cult was Tell Basta city.
BASTET
Mummified cats of Flinders Petrie

In 1952, in the Natural History Museum in London, a chest full of objects that came from Egypt, was discovered.
Inside there were 192 mummified cats from the IV to the II century BC, seven mongusts, three dogs and a fox.
They had been found in the excavations in Giza and had been given to the museum in 1907 by Flinders Petrie, unfortunately they didn't have any information about their exact origin. It was a very important discovery because it enlightened the role and the authority that the cat had in the Egyptian society.
In the IV century BC the cats were appreciated probably because they were capable hunters of rodents that infested the deposits of seeds.
Later they entered the religious cult.
Bubasti, on the delta of the Nile, was the most important center for the goddess bastet's cult, represented both as a cat, as by a woman with the head of a cat.
In the second half of the IXI century, the catacombs in Bubasti gave back hundreds of thousands of mummified cats.
Zoological researches revealed that of the 191 mummies, three were bigger than the others, they were the remains of the cat of the jungle (Felis chans), the other 189 were similar to the common wild African cat or Egyptian cat of the sands (Felis libica).
A species between the African wild cat and the domestic cat of today.
The study on the mummies, has also changed some beliefs on the role the cat had in the Egyptian society.