What has remained of the civilian Egyptian building, let the archaeologists make interesting observations.
Outside the valley of the Nile, many settlements have been discovered, while along the Nile the high humidity has prevented their conservation in the time.
They are houses that vary in size according to the rise of the population; the functionary's typical house had a ground floor for commercial activities, the first floor to welcome guests, the second for the bedrooms and lodgings for the women of the harem.
The various floors were connected by a staircase that went up to the granary. In the top part there were also often poor lodgings for the servants.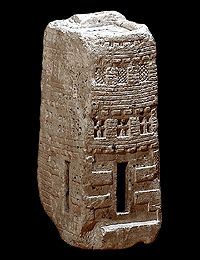 In Amarna, where the excavations have proved the existence of a big inhabited area, the pharaoh's administrators' houses had a big rectangular courtyard at the entrance with a pool, inhabited by fish and decorated with floating aquatic plants.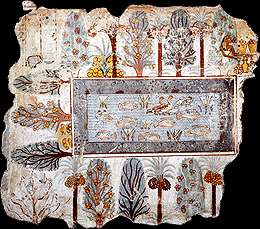 The inner walls were decorated with frescos.
The tomb builders in Deir El Medina, instead lived in raw brick houses. There were only four small rooms.
The furnishing in an Egyptian house was essential. In the poorest houses the furniture was limited to some benches, a wood trunk, and mats with a headrest to sleep on.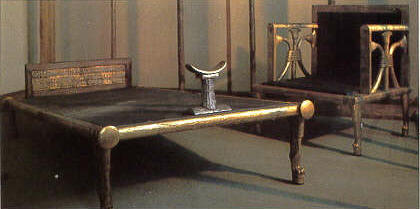 Neither the refined houses, anyway, needed a more complex furnishing. In the kitchen, there were usually a brazier, a brick oven, and baskets and jugs to keep the food in. But not even the dining-room had elaborate furniture.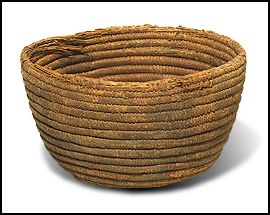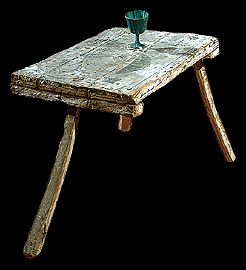 The Egyptians in fact didn't like big tables; they ate sitting on mats, preparing on low tables for one person or two at the most.
The seats were more elaborate, for the functionaries when they were occupied in their tasks or for the high social personages when they gave audience. Well known are both the folding seats with no backs, with legs at x, as the real thrones with backs and arms.
The most prestigious examples, like the ones found in the royal tombs, were made in wood carefully shaped, inlaid with gold and precious stones. As much important was the bed, supported by two legs at x or by a single one that supported a curved part where they lay their head to sleep. In spite of the apparent lack of comfort, the quantity of these objects in all the museums, proves that the ancient Egyptians appreciated them very much. Cases and trunks contained the clothing and the make-up objects.
In the dark houses some ceramic bowls were used, they were filled with oil on which a vegetable fibre wick floated.
[banner]