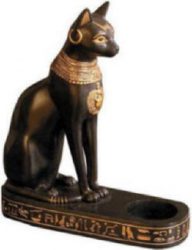 Bastet was a divinity represented by a woman with the head of a cat. Probably she was originally a lioness.
Goddess of the city Bubastis that was named by her.
She was particularly honored by the sovereigns of the XXII dynasty and sometimes she was considered as a poorly characterized form of Hathor or Sekmet, but on the contrary of the latter, who represented the burning sun rays, Bastet had the features of a good goddess. In the syncremist epoch.
A religious moment dominated by the influence of the solar cult, Bastet was assimilated also to the "far-away goddess".
A legend says that Bastet, bitten by a scorpion, was cured by Ra